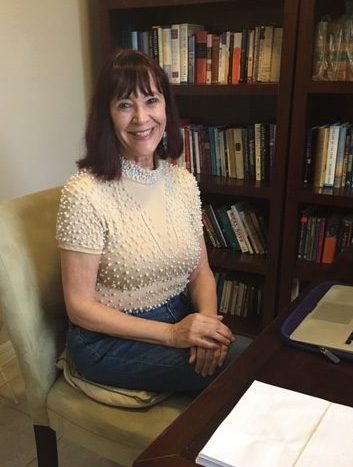 Susan Long has always loved to write, first in her diary as a young child and with chalk on the sidewalk. She has published essays in the Orlando Sentinel, a short creative non-fiction story, "Rediscovering Daddy," in Voices of Lung Cancer, numerous articles in AAA member magazines, poetry in a college literary magazine, and reviews in Journalism Educator.
Susan recently completed her second novel, Waiting In Place. Her first novel, Blue Impala, was based on a short story of the same name, which was a finalist in Glimmer Train's "Short Story Award for New Writers." She's now working on a compilation of her short stories and essays — Dreams of Appalachia–Take Me Home: Stories and Essays.
Born in Charleston, West Virginia, Susan spent most of her childhood in the small town of Clendenin, about 25 miles up the road. When she was 14, she moved with her mom and sisters to Campbell, California, to live with their grandmother. Subsequently, she and her family lived in Miami, Florida, where Susan attended high school and her first two years of college. At the age of 21, Susan moved to Long Island, New York, where she received a bachelor's degree in English from Stony Brook University. After working for a travel magazine for a year, she was awarded a teaching fellowship in the English department at C.W. Post–Long Island University, and earned a master's degree in English, with a minor in Education.
Susan taught high school English on Long Island before joining a PR firm in Manhattan. After many years working in PR, she moved back to Florida and became an assistant professor in the Communications department at the University of Central Florida in Orlando, where she taught Writing for Public Relations and Advertising Copywriting, among other courses, for four years, and published reviews in Journalism Educator on books such as The Suspended Sentence: A Guide for Writers. Subsequently, she was hired as a senior writer at AAA's national headquarters in Lake Mary, and later became manager of National Promotions and Communications.
Susan lives in the Orlando area with her Black Lab, Jax.
---
Creative Writing Workshops
Dorothy Allison –– Below Sea Level Writers Conference, St. Augustine, Fla. (submission required for acceptance)
Madison Smartt Bell — Key West Literary Seminar/Workshop, Key West, Fla. (submission required for acceptance)
Philip F. Deaver — Rollins College, Winter Park, Fla.
Connie May Fowler — Below Sea Level Writers Conference, St. Augustine, Fla. and Rollins College, Winter Park, Fla.
Tom Franklin — Eckerd College Writers' Conference-Writers in Paradise, St. Petersburg, Fla. (submission required for acceptance)
Lezlie Laws — Rollins College, Winter Park, Fla.
Laura Lippman — Eckerd College Writers' Conference-Writers in Paradise, St. Petersburg, Fla. (submission required for acceptance)
---